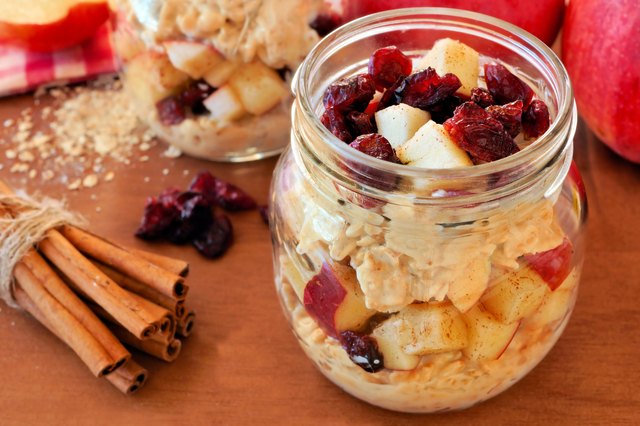 15 slow cooker breakfasts perfect for chilly mornings
Warm and comforting slow cooker breakfasts can give you the fuel you need to get through those cold mornings.
Slow cookers are a classic kitchen appliance that can help you create bundles of tasty dishes when you are short on time: you prepare your ingredients, add them, and let your food cook slowly and slowly. But the time-saving device can do more than soups and stews – it can make a great breakfast, too.
If you've never thought about using the Crock-Pot to make a morning meal, let one (or all) of these delicious slow cooker breakfast recipes inspire you.
1. Slow cooker oatmeal with apple and cranberries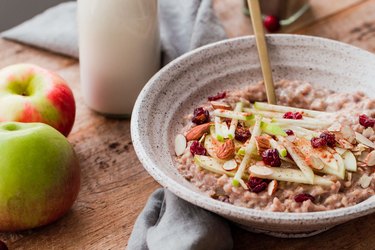 These slow cooker oatmeal with apple and cranberries taste like falling into a bowl with seasonal flavors like apples, fresh cranberries, maple syrup and spices like cinnamon and cardamom.
It's the perfect batch slow cooker breakfast recipe. You can store leftover oats in the fridge, then add some of your favorite milk or water when you reheat them.
2. Slow Cooker Cherry Almond Oatmeal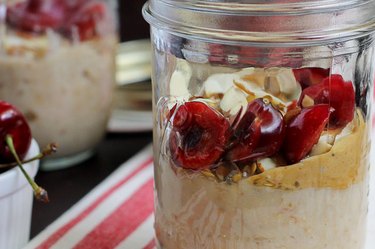 Start your day with a sweet treat with this Cherry Almond Oatmeal recipe. When you don't have time to stand in front of the stove stirring the oatmeal in the morning, this recipe is a great choice.
Simply combine healthy ingredients like flax seeds, chia seeds, almond butter, and tart cherries in your slow cooker before bed and wake up to a hot and filling breakfast. You can store leftover oats in mason jars and make your breakfast for the rest of the week!
3. Sweet Potato and Sausage Breakfast Casserole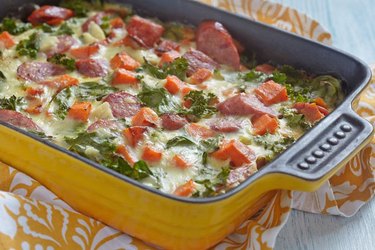 Pans aren't just for the oven – this sweet potato and sausage breakfast casserole can be made in your slow cooker and combines some tasty breakfast staples.
But this version gives you a morning dose of nutrients thanks to the sweet potatoes and other vegetables. In addition, it is rich in protein.
4. Slow Cooker Apple Cinnamon Roll Casserole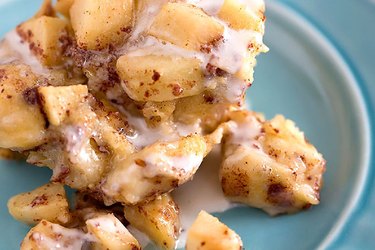 You can't go wrong with classic cinnamon rolls, but this Crock-Pot Cinnamon Apple Casserole might have you covered.
There is very little prep through the use of refrigerated cinnamon buns, but the end result is rich in flavor with the addition of chopped apples and egg custard sweetened with maple syrup, vanilla and cinnamon.
5. Slow Cooker Cauliflower Hash Browns Breakfast Casserole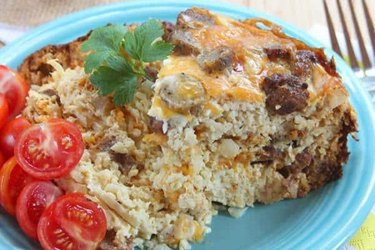 This Cauliflower and Hash Browns Slow Cooker Breakfast Casserole is low in carbs, gluten free and high in protein. A dish that would normally take almost an hour in the oven is pretty ready once you wake up from letting all the ingredients cook overnight.
You'll wake up to a delicious casserole filled with breakfast favorites like sausage and eggs. You can also customize the casserole dish using bacon, ham, or your favorite plant-based meat substitute.
6. Slow cooker eggnog granola
When eggnog season arrives, this slow cooker eggnog granola makes a festive addition to your favorite yogurt or to a delicious snack. And you can make it with healthy ingredients that you've probably already stored in your pantry, like oats, nuts, and flax seeds.
Top these ingredients with hot spices like nutmeg and cinnamon and add your favorite dairy or non-dairy eggnog and let your slow cooker do the rest.
7. Crock-Pot Crockless Spinach and Feta Quiche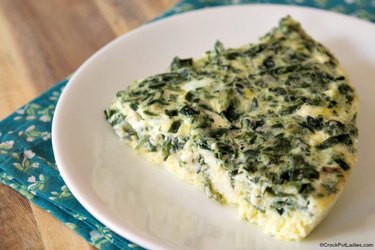 If making a quiche seems intimidating to you, try this crusted spinach and feta version. It only uses four main ingredients: frozen chopped spinach, feta, eggs, and whatever milk you prefer. And the best part is you can make this recipe over and over again using leftover vegetables and meats like chicken, ham, sausage, or even steak if you want to.
8. Slow Cooker Pumpkin Streusel Cake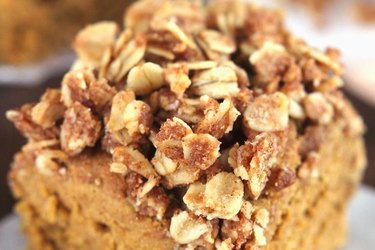 Who doesn't love a good slice of coffee cake? This pumpkin streusel coffee cake is packed with seasonal spices like cinnamon, nutmeg and maple syrup and pairs perfectly with your morning coffee or tea. You can also make this gluten-free recipe using gluten-free, dairy-free, egg-free, and vegan oats with a few small substitutions.
9. Crock-Pot Blueberry Breakfast Casserole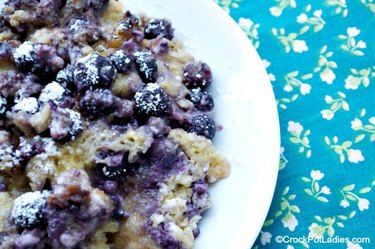 This recipe is like blueberry pie, only better. Fresh or frozen French bread and blueberries are combined with eggs, hot cinnamon and maple syrup for a delicious breakfast or snack. It is a rich dish but also rich in protein, potassium and fiber.
10. Slow cooker apple and gingerbread crumble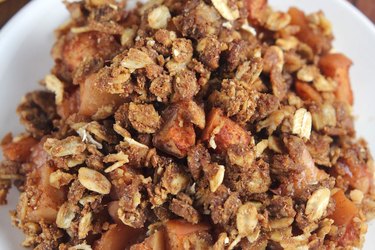 Fruit and granola are a classic breakfast option and this slow cooker apple and gingerbread crumble gives a seasonal twist to a classic with ingredients like molasses, cinnamon and maple syrup. You'll feel like you're eating apple pie every time.
The recipe can also be made gluten-free and vegan using gluten-free oats and vegan butter or coconut oil.
11. Crock-Pot Cookie Breakfast Casserole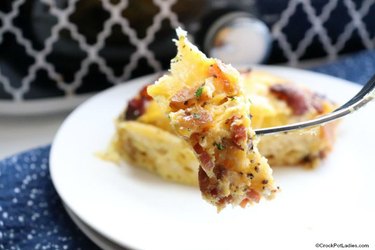 This casserole dish brings together all the foods you already love for breakfast: cookies, eggs, cheese and bacon. Enjoy them in a new way by layering them in your slow cooker and cooking them for a few hours. The end result is a hearty breakfast that's high in protein and full of heartwarming flavors.
12. Slow Cooker Sticky Pecan Buns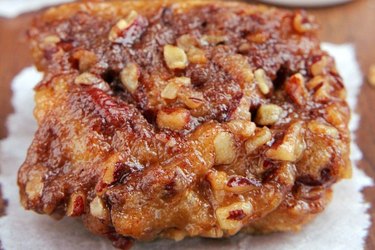 These Slow Cooker Sticky Pecan Buns taste just as decadent as traditional sticky buns and the butterscotch sauce will make you want to have them for breakfast. They can even be made vegan using your favorite non-dairy milk and vegan butter or coconut oil.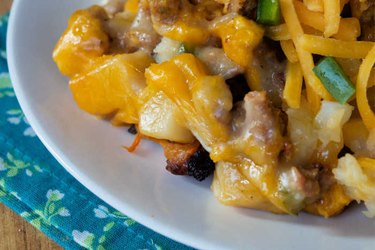 Hash is always a great breakfast idea and this Crock-Pot recipe has a creamy coating, with the addition of canned cream of potato.
Meat lovers can add breakfast sausages, ham or bacon (or as many meats as you want). And you can add more veg for extra nutrition or skip the meat if you're a vegetarian.
14. 5-Ingredient Slow Cooker Granola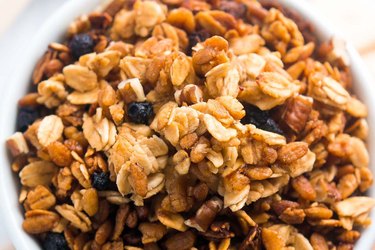 Crispy brown rice cereal is the secret ingredient to making this slow cooker five-ingredient granola as crispy as traditional versions. The honey adds a little sweetness and the egg whites give the granola some protein. You can make it vegan by replacing egg whites with non-dairy milk and using maple syrup or agave in place of honey.
15. Crock-Pot Fully Loaded Breakfast Casserole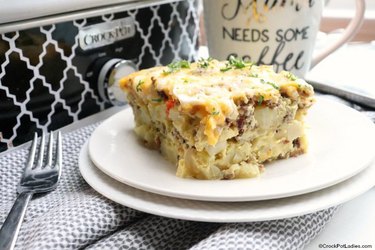 This loaded Crock-Pot breakfast casserole is full of staples like potatoes, bacon, cheese, and eggs. The good news is, you can fill the dish with lighter ingredients like turkey bacon, veggies, and egg whites if you want. You can also make this vegetarian dish by eliminating the meat or using a plant-based meat substitute.